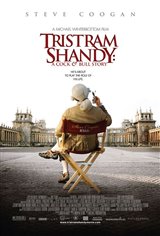 Tristram Shandy: A Cock and Bull Story
3.19/5
Based on 78 votes and 12 reviews.
Please rate between 1 to 5 stars
Showing 1-10 of 12 reviews
July 1, 2006
If you read the book first you wont enjoy the movie as much but it is good to watch
June 23, 2006
I thought it was clever and funny and featured a fantastic cast. What I didn`t like is that I had to wait till it came to a second run theatre to see it. If Empire is going to Monopolize they should bring in even the smaller films.
June 10, 2006
I loved this funny, unconventional movie. I knew what I was in for based on past efforts by the director. Steve Coogan plays a wonderful character who also happens to be an actor named Steve Coogan. I`m glad to see smart and witty movies like this are still made.
June 3, 2006
Awful!!! That`s all I have to say about it.
May 31, 2006
I really enjoyed the book when I took it in University and was looking forward to seeing what it would be like as a film. I was not disappointed; none of the wit and humour was lost in its translation to the screen..
May 7, 2006
I really enjoyed this film. I can understand why some others did not though. Same reason I saw idiots walking out of "the life aquatic" shouting, this sucks. You need the brains and wit to understand the british humour.
April 6, 2006
If you find the movie to be full of itself I urge you to run to the nearest mirror look yourself straight in the eyes, and ask your reflection "do i really think i`m as smart as i think i am", then stop and reflect on the novel (if you have the capacity to read it) no wait..if you haven`t read the movie, don`t critique the movie..only the wise will see this movie as a true masterpiece. it is unfilmable, and it has been done..curious conceit...no?
March 18, 2006
what a pile of bull *&%@!