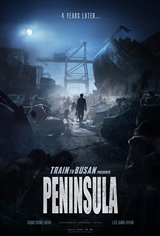 2.2/5
Based on 10 votes and 5 reviews.
0.00%

20.00%

20.00%

20.00%

40.00%
Please rate between 1 to 5 stars
Showing 1-5 of 5 reviews
October 1, 2020
Very disappointing sequel to the original movie.
August 30, 2020
Massively disappointing followup. Treads much of the same ground as the similiarly disappointing LAND OF THE DEAD. Uh, yeah...watch a 20+ year old movie instead, even if you've seen it before. That would be better than this.
August 12, 2020
I thought it would be a good movie, Like Train to Busan where I choked up. but this movie made me cringe. the Driving on the movie is so fake.
August 11, 2020
The movies best quality is the pacing. It moves quickly so even if you don't care about the characters there is some zombie action. The dramatic scenes are a bit goat-cheesy for me but the action is entertaining and the "over the top" Hong Kong Villains are downright gold your stomach funny for negative stereotyping.
August 10, 2020
Not too bad. A decent time waster. Better than seeing all those 20 years plus old movies we already have on dvd