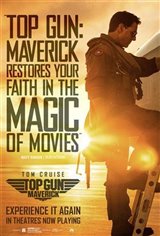 Top Gun: Maverick
| 190 Reviews
Write a Review
In Theaters: May 27, 2022
On DVD/Blu-ray: October 31, 2022
4.64/5
Based on 630 votes and 190 reviews.
Please rate between 1 to 5 stars
Showing 31-40 of 190 reviews
August 20, 2022
And lets not forget the beautiful J. Connelly. There's a depth to her acting just thru facial expressions alone.
August 18, 2022
Enjoyed this almost as much as the last Fantastic 4 movie. I give it a solid 7/10!
August 16, 2022
With over 500 ratings giving nearly a 90% 5 * rating ; who are the real jerks? FEW movies receive these kind of accolades.
August 16, 2022
Love how they tied the storylines together from the original. This was also better than the original in my opnion.
August 16, 2022
Super sequel, I just wish they'd brought Gibson and Foster back.
August 15, 2022
Movie is great and would be, no matter who they put in for Mavericks part!
August 13, 2022
ONLY WAY TO DESCRIBE THIS FILM -- A MASTERPIECE YOU WON'T WANT TO MISS.
August 13, 2022
I am an avid movie person. And I haven't really been in the theaters for a couple of years, due to the terrible movies that have been out. And here comes Too Gun. In all of my "movie life". I've been going to movies since I was a very little girl, I have never gone into a theater and seen a movie over and over and over. This is the only movie that I have ever seen in a theater five times, and I'm planning to see it as much as possible before it goes out of the theaters. I don't want to see it as a streamed movie. I want to see it on a huge movie screen in the theaters. I knew, when I saw this, it wasn't just green screen. It was the real deal. You can feel it. And thank you Tom Cruise, for waiting for the "tech" to change. I've taken friends, I've taken students, I've gone with everybody I can, and I went by myself today. Oh, by the way, it came out on my birthday. So there's something synergistic to that. Thank you, Mr. Cruise, cast, directors, producers and every single person from A-to-Z that made this movie happen. Because here's another secret, I grew up in San Diego where Top Gun was. I was there at Top Gun in Miramar when he was there the first time. This time, I'm proud to say, I was there in Coronado same time again. Magical moments. It's a wonderful movie and I'm so grateful, for Tom's dedication, and his patriotism, and his respect to our country. That was evident. Everyone I've taken loves it. We all love it. Nothing has been better than this movie in so many years. Thank you very much.
August 11, 2022
Talk about a summer blockbuster…this one has it all. It may be predictable and a tad cliche but it's an adrenaline rush start to finish. Love him or hate him, Tom Cruise solidifies himself as the biggest movie star in the world and it's really not even close at this point.