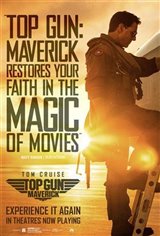 Top Gun: Maverick
| 190 Reviews
Write a Review
In Theaters: May 27, 2022
On DVD/Blu-ray: October 31, 2022
4.64/5
Based on 630 votes and 190 reviews.
Please rate between 1 to 5 stars
Showing 181-190 of 190 reviews
May 27, 2022
Very similar to the first top gun . Good story line . The best part was the jets and the way they were filmed , which was an upgrade from the first flick . Probably would be awesome on the IMAX screen .
May 27, 2022
Great acting, suspense, thrills, exciting flying , and s great story
May 27, 2022
Great movie in all aspects....a must see maybe twice
May 27, 2022
The storyline of the movie is very believable, sound, well connected to the first, making the movie more fulsome than just the way the movie was filmed. Solid movie, saw it on IMAX. Will go see it again!!
May 27, 2022
This is the best movie I've seen this year. Lots of action, solid plot, great acting done with jets. Finally, a great Hollywood movie. About time. Thank you Tom and Jerry for such an awesome movie. No social messaging was refreshing. #supportjohnny.
May 26, 2022
Not particularly a Tom Cruise fan but he really reeled me in for this one! No one else by TC could have done this movie. Exciting from beginning to end and the scene with Val Kilmer's character added just the right touch of emotion needed by the movie. Excellent movie from start to finish. Wow, those exciting scenes in the air really kept you high! Count me in as a TC fan now.
May 26, 2022
As good a Sequel as it gets. Fun, Exciting, Touching!!!!!
May 26, 2022
I am the most unlikely person to have enjoyed this film, but I am now its greatest promoter! I'm a bit squeamish about sequels to iconic films as they often do not remotely measure up. Enter Top Gun:Maverick! Smart, exhilarating, exciting, emotional, heart warming, funny and "feel good". Perfectly cast. Well done Tom Cruise, Miles Teller, Jennifer Connelly, Val Kilmer. Excited to see it again with hubby!
May 25, 2022
Excellent movie! Had me on the edge on my seat! Action through out! Check it out! You will love it!
August 8, 2019
THE NEW TOP GUN MAVERICK MOVIE PREMIERE AND IS GOOD AND VERY GOOD AND I WANT TO SEE THE SECOND ONE AGAINS AND AGAINS AND THANKYOU VERY MUCH.