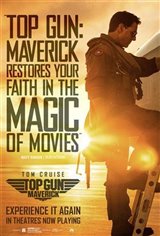 Top Gun: Maverick
| 187 Reviews
Write a Review
In Theaters: May 27, 2022
On DVD/Blu-ray: October 31, 2022
4.68/5
Based on 624 votes and 187 reviews.
Please rate between 1 to 5 stars
Showing 1-10 of 187 reviews
April 9, 2023
A 10! The special effects are marvelous, the direction tight and taut, but it's the sensual chemistry of the reunited Cruise and McGillis that sends this super sequel soaring to new heights!
April 2, 2023
Didn't want to go, but movie night with friends who chose the movie. Wish I hadn't wasted the $s. Same old Tom Cruise ego project, nothing new. Others friends who went were disappointed too. 2 hrs, or whatever the run time is, that I can't get back.
March 12, 2023
It was great to see Tom Cruise being handsome and amusing again. Val Kilmer was admirable acting with his unfortunate condition. The images were exciting but the story was typical. Ho hum.
March 4, 2023
Loved the comradre with the "top Gunners" having egos much bigger than their rank. :) Some chuckles at it being up for some awards. Seeing it for the 3rd time I think it should be. Had all the ingredients of a great movie. And I Love J. Connorly ; She can say little & express so much.. You can always feel what shes thinking by looking at her.
January 10, 2023
So well done in all aspects of moviemaking. A great story supported by great acting, great stunts, and great music. What blockbuster movies are meant to be.
January 1, 2023
I don't think I've enjoyed a movie as much as this one. It was so well directed from the beginning to the end. The cast was awesome and of course Tom Cruze was fantastic! It gave me too a total respect as to what out men and women in the Military go through for us. To keep us free. Thank you for making such an extraordinary film !
December 4, 2022
I thought it was slow moving and not nearly as good as the original....in 1986! The 80's are long gone. It was good for that time, but we've all moved on. No need to make another one of these.
November 2, 2022
Anyone giving this 1 star needs to get a life, 5 stars all the way, great ride .
October 21, 2022
Highly recommend!!!
October 17, 2022
The best i have seen in a long time.