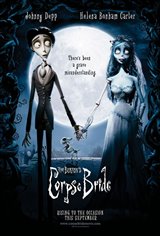 Tim Burton's Corpse Bride
4.22/5
Based on 1570 votes and 91 reviews.
Please rate between 1 to 5 stars
Showing 41-50 of 91 reviews
September 27, 2005
I never seen any of Tim Burton`s movies but the first glance, i knew it would be good and I was right. I was very satisfied and I plan to see it again
September 27, 2005
It was an awesome movie, though almost too similiar to Nightmare Before Christmas (even using a lot of the same character types). For those who like NBC, they will love this just as much - perhaps even more for it seems to have a lot more adultish undercast to it. All in all, I rate it a 5/5.
September 27, 2005
THIS IS THE BEST MOVIE EVER!!!!!!!!!!!HECK YA
September 27, 2005
The movie was inspired, it had everything you could have wanted and it wasn`t too long! There was a little bit of annoyance with the parents, but that was for the kids, and even so, there was enough humor for everyone so that it didnt matter. The movie was funny, sad, and had awesome music, exactly what i would expect from Tim Burton, after being a fan of "The Nightmare Before Christmas" for years and years. I`m so excited that Tim has gotten back on the wagon of stop-motion animation.
September 27, 2005
its grrrrrrrrrrrrrrrrrrrrrrrrrrrrrrrrrrrrrrrrrrrrrrrrreat
September 27, 2005
I guess it was a good movie, but nothing really special. I feel that no real passion or effort was put in to it. The story is self explainitory and not to clever, on my behalf at least. And the soundtrack didn`t have the same majesty of Burtons Nightmare before christmas, which i am totaly in love with, The animation thing though is pretty cool. Sometimes you just totaly forget that its all like... um that thing that it is. Okay i`m done.
September 27, 2005
LONG AND BORING but I liked the plot!
September 27, 2005
I loved it and would see it again.
September 27, 2005
I thought it was adorable. There was one song, the song Bonejangles sang about the Emily that I thought was particularly entertaining. Good casting choices as well. Not to mention the fantastic score. Danny, I was hoping for some catchier songs besides that one. But I forgive you. Well done, Tim. Very endearing. Not as dark as I expected. I loved the reverse contrast between the land of the living, and the land of the dead. Tim, one other thing, get over your daddy issues in a therapist`s chair, not your films. Charlie and the Chocolate Factory was great, but, Willy Wonka needs not a backstory. In the end, I always applaud. Well done, the lo
September 27, 2005
TIM GOT IT RIGHT -THIS TIME,GOOD JOB TIM WE REALLY ENJOYED IT...THANKS