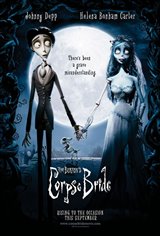 Tim Burton's Corpse Bride
4.22/5
Based on 1570 votes and 91 reviews.
Please rate between 1 to 5 stars
Showing 21-30 of 91 reviews
October 10, 2005
Not bad, could have done without the singing.
October 8, 2005
If you`re a fan of Tim Burton`s `A Nightmare Before Christmas` or `Edward Scissorhands` this film will not dissapoint...quirky, eccentric, a little dark but always endearing...
October 7, 2005
THIS MOVIE IS SO AWESOME AND I LOVE IT! its such a good love story...definately different than what i thought it would be after seeing a nightmare before christmas. i would definately recommend this one!!
October 7, 2005
Tim Burton`s vision of life and love is simply beautiful in all it`s darkness. Like a black rose, is still a rose and smells just as sweet. The humour is witty and delightful, refreshing, for it is always tasteful and does not require rudeness. The caracters are so wonderful and clever! I wish there were more original stories like this, created for all to enjoy.
October 7, 2005
nothing special, i really couldn`t stand all the singing. the plot was ok, ending was just BLEH. it was like watching a baseball game that ends up a tie.
October 4, 2005
I love it!!!!!!!!!!!!!!!!!!!!!
October 4, 2005
Hey, anyone who likes this movie is just going on the magic that Nightmare had. The animation was good, but everything was subpar compared to Nightmare.
October 3, 2005
Emily the corpse bride is hot
October 1, 2005
Freaken awsome movie Tim burtons has done his job! sick movie but its also very confusing but id love to see it agn yeah!
October 1, 2005
It was ok. I could have done without the musical numbers, those were really bad to the point I wanted to walk out of the movie. But I decided to stay and it turned out not so bad. 3/5