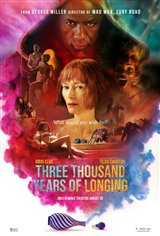 Three Thousand Years of Longing
| 12 Reviews
Write a Review
In Theaters: August 31, 2022
On DVD/Blu-ray: November 15, 2022
3.12/5
Based on 32 votes and 12 reviews.
Please rate between 1 to 5 stars
Showing 1-10 of 12 reviews
September 10, 2022
I loved the individual stories that the Djinn told but found the romance lacking
September 6, 2022
Yawn. Spend your money on the books. making movie is art form, an intelligent, entertaining 2 dimension of a book or story event- this art is lost. movies now are about how much money can I make or I made one good movie lets try another or somebody had some money and wanted to make more and asked a director to give a go at it.
September 5, 2022
Storyteller goes to Istanbul and redoes "1001 Nights" (Scherazade comes up on a sign). (Spoiler) She imagines a Djinn and falls in love with him. Old fashioned story telling with lavish settings. The ending a little overdone, but great fun.
September 5, 2022
Costumes and cinematography were the only redeeming factors plus a few good shots of the Bosphorus and palaces. Story was extremely odd. Thank goodness for the comfy seats! Would never recommend to anyone. It was Bizarre. Two stars only for the costumes and location scenes. Sound track was also good especially through the Credits. One of worst movies have ever seen.
September 4, 2022
You will be longing for this movie to be over!
September 4, 2022
Fairytale about love. Well acted. Nice storytelling
September 4, 2022
Elba is always solid. But he seemed scattered. Not as much as in Beast. The girls were awful. This movie is crazy stupid. The giant naked women were so uneccessary and that part of the story offered zero value. They accomished nothing. Was like the joke Orange u glad I didn't say banana again...but they just kept saying banana. The 2 Brothers chapter was so dumb. They I trounce a character then he dies, killed, or written off. They fat brother puts gross fluid ha d out the whole. Mom kisses it. That whole movie was vross and obnoxious. Who gives this over 1 star? I call BS
September 3, 2022
Both leads were top notch. Very interesting story and music.
September 3, 2022
This movie is like that friend that talks about nonsense all the time and never shuts up.
September 3, 2022
I greatly enjoyed this film. Very entertaining and action packed, with great lead actors. Part fantasy, part love story, part Aladdin! Great story telling - very engaging, exciting, not scary, and quite lovely. I really didn't want it to end, and was happy when it didn't and could have. I bet you would pick up a lot more with watching it a 2nd or 3rd time. I love the interaction/chemistry of the 2 just hanging out, chilling in their bathrobes, strangers sharing their lives.