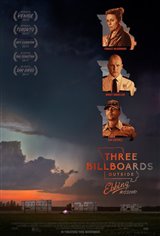 Three Billboards Outside Ebbing, Missouri
| 76 Reviews
Write a Review
In Theaters: November 10, 2017
On DVD/Blu-ray: February 27, 2018
3.77/5
Based on 414 votes and 76 reviews.
Please rate between 1 to 5 stars
Showing 21-30 of 76 reviews
February 5, 2018
The worst movie i have ever seen! Should have walked out with the first g.d. word.
February 5, 2018
Movie was advertised as comedy,drama & l am still searching for some humor. Disliked the vulgar language
February 4, 2018
Fantastic,I feel numb!
February 2, 2018
Great movie, the ending leaves you guessing, but that's because it's based on a true story and an unresolved murder. Frances McDermott is spectacular.
January 28, 2018
Interesting movie for about the first half. Then falls apart at the end with a meaningless ending. I walked out feeling cheated and wishing I had not come. Like "Moonlight" from last year, I don't get what the fuss is about. See Darkest Hour instead. Or the Post.
January 26, 2018
Absolutely stellar!!! Frances McDormand is a powerhouse and Sam Rockwell's performance is outstanding!!! Loved the realism, themes, and dialogue...the wit and humour that punched through the drama. I smell a few more Oscars...
January 23, 2018
Best movie of 2017
January 22, 2018
This movie is spellbinding and has some of the best acting I have seen in a very long while. Frances MacDormand is outstanding and worthy of the awards she has won.. Hopefully, this will include an Oscar in the future. I wish this movie were showing for an extended period of time at AMC Lennox.
January 19, 2018
Brilliant movie - my favorite of 2017. 2nd is Darkest Hour. Frances and Gary for Oscars.
January 19, 2018
It was okay, but not as great as the hype would lead one to believe. It is not as artful as it thinks it is, and McDormand is good but pretty one-note throughout. I thought Margot Robbie in "I, Tonya" had better range, personally. Not sure what the Dinklage plot was doing in there, and the turnaround of the Rockwell character isn't believable. Harrelson is good, but overall this was not all that memorable. And I thought the ending made the entire moral of the story ridiculous. Not a must on the big screen -- wait for Netflix.