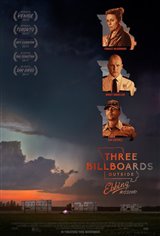 Three Billboards Outside Ebbing, Missouri
| 76 Reviews
Write a Review
In Theaters: November 10, 2017
On DVD/Blu-ray: February 27, 2018
3.77/5
Based on 414 votes and 76 reviews.
Please rate between 1 to 5 stars
Showing 11-20 of 76 reviews
February 26, 2018
Disappointing after all the build up. Performances were good, but I found to be slow and overlong.
February 25, 2018
I honestly don't have words for this. There was some good parts, and I tried to get into it. However I just don't like this movie.
February 25, 2018
Boaring movie and I honestly fell asleep during it.
February 25, 2018
Pretdictable plot and vulgar language
February 18, 2018
I loved the movie and I absolutely loved Frances McDormand in it. She was brilliant!
February 16, 2018
I would not recommend this movie to anyone. The language was vulgar and not necessary. I walked out of the movie. The storyline could have been presented in a much more professional acting manner without the vulgar language.
February 9, 2018
Anybody who didn't like this movie probably thought that gigli was movie of the year Way too many swears for no good reason But frances absolutely destroyed the part and WILL win the oscar Sam Rockwell was really good too
February 9, 2018
Wow! Great Movie! several unexpected twists and turns. The Characters were very well developed and the acting was so flawless that all of them were completely believable.
February 9, 2018
Not a very good movie even if the acting was good, couldn't save it!
February 9, 2018
OMG....Frances McDormand really outdid herself on this one!! LOVE this actor!! Couldn't have chosen a better star for the part! No wonder there were so many awards handed out for this movie....totally deserved. Don't miss this one!