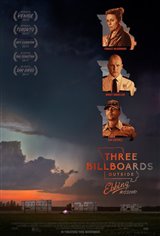 Three Billboards Outside Ebbing, Missouri
| 76 Reviews
Write a Review
In Theaters: November 10, 2017
On DVD/Blu-ray: February 27, 2018
3.77/5
Based on 414 votes and 76 reviews.
Please rate between 1 to 5 stars
Showing 1-10 of 76 reviews
April 9, 2018
Liked the acting, (the advertising guy mumbled wayyyy too much at first)... but really how could the cop hit the advertising guy and throw him out the window and likely break the secretary's nose and basically only get fired?!?!?! He didn't like the billboards but he took it wayyy to the extreme. Hated the ending. Yes they might kill a POSSIBLE rapist who they both were unaware visited the mother in her store and oddly threw a $7 item and smashed it as well as admitting to raping a girl while an x-cop was in the booth (who you could totally see sitting there!..FYI any cop will tell you they will sit facing the door so they can see who comes and goes), they were likely going to kill the possible rapist killer. I didn't mind it, the acting was good but the story had too many holes and conveniences.
April 9, 2018
A good story and acting but downgraded it due to far too much crude language and sexual references . Though expected of such characters in this film, could have been toned down somewhat.
March 24, 2018
The acting was excellent! The movie was so engrossing...very dark at times but then we found ourselves laughing at times also... dark humor? It is such a powerful story about how sorrow, hatred, anger, and revenge can consume you.
March 12, 2018
Frances McDormand's fantastic performance is worth the price of admission. The accolades and awards are well deserved.
March 9, 2018
The movie is a logical mess, becoming increasingly unbelievable with every passing minute. The events are contrived. The writing becomes increasingly desperate. I wish that the movie had had respect for our intelligence. The movie wastes fine actors like Frances McDormand, Sam Rockwell, Lucas Hedges, Zeljko Ivanek, & Peter Dinklage.
March 2, 2018
Didn't need the foul language to that extent but the acting was supurb.
March 1, 2018
The premise was a good one but there were too many unrealistic characters and unrealistic scenes to support the storyline. It bordered on outrageous at times. I mean, really......billboards are on fire and that measly extinguisher put out the fire??!! Ridiculous!
March 1, 2018
Great movie!,, one of the best I have seen in awhile!,, entertaining !,,
February 28, 2018
Really enjoyed this movie ! Acting was fabulous ! A must see!!,
February 27, 2018
The characters were well done cause that's how stupid men deal with "women who ask for it". A little too much swearing but tolerable. What was nice to see is that there IS hope in this world.