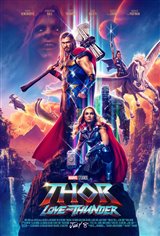 Thor: Love and Thunder
| 76 Reviews
Write a Review
In Theaters: July 8, 2022
On DVD/Blu-ray: September 27, 2022
2.68/5
Based on 262 votes and 76 reviews.
Please rate between 1 to 5 stars
Showing 31-40 of 76 reviews
July 28, 2022
Not appropriate for young kids.
July 26, 2022
As others have said, a poor parody of previous Thor movies. They make him look like a buffoon and ruined a great character. Not for kids. Sad to see the franchise devolve this way.
July 25, 2022
Somehow it devolved into snarky, campy, inside jokes for the actors and actresses. It sort of felt like they all were jealous of Matt Damon's cameo in the previous movie playing a bad actor within a play, within a movie. For whatever reason, it just got ugly, 80's hair metal ugly, with zero redeeming qualities. The popcorn at the Riverview is worth 1 star though so 1star.
July 25, 2022
Too bad Disney ruined another Dynasty. Marvel will never be the same 🤦???
July 25, 2022
Watching this was like finding a drunk person in a ditch but when you turn them over, there are ants all over their face. It was like that.
July 24, 2022
Some comedy was unclean, not bad action wise, but it was disgusting to see how the queer agenda is becoming a part of the Marvel movies making light of orgies and such, waste of $, wouldn't be surprised if next Marvel movie is a bunch a queers on the platform
July 21, 2022
I thought it started out good but it really turned into a spoof/parody of Thor! I thought much of it was corny, I had no idea that Thor was going to be Butt naked in the movie and they had to push the gay/lesbian agenda not just once or twice but several times. Beware taking children to this movie, we had far too many young kids there during our showing! I sure wish that I hadn't wasted any money on this waste of a movie!
July 20, 2022
I think they went overboard with making the movie less serious than it should be. this movie has the best actors and best storyline, yet, when you watch it, it seemed like a cartoon rather than a movie. I think this movie should have been more serious telling the story of Gorr and not make it just a funny movie (which turned out to be not funny)
July 20, 2022
Major cringe. The dialog was poor and it wasn't kid friendly. Definitely a disappointment from the last thor.
July 20, 2022
The opening scene introducing the villain and his origin story was fantastic and really set the movie up to be in the top marvel films. Unfortunately, what proceeded it was rather disappointing. When the movie was over, I had honestly felt like I had watched a parody of a Thor movie. You could have named it "Scary movie 9" and I would have almost believed it. They really overdid it with the comedic writing, many of which fell flat. There were a few that were just straight cringe to the point that not a single person laughed and there was a very audible "EHHH" from the person in front of me. It felt like there was a joke every 30 seconds and it really stifled the serious elements in the movie. Christian Bale was amazing and what little we saw of him was honestly the only redeeming factor in this movie. Really such a shame they underutilized him.