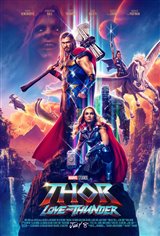 Thor: Love and Thunder
76 Reviews
|
Write a Review
In Theaters: July 8, 2022
On DVD/Blu-ray: September 27, 2022
2.68/5
Based on 262 votes and 76 reviews.
30.53%

4.58%

9.16%

13.74%

41.98%
Please rate between 1 to 5 stars
Showing 21-30 of 76 reviews
August 10, 2022
Thor was my favourite comic book hero. This parody of this character was without a doubt the worst Marvel movie. Hope they get a new director for the next one.
August 8, 2022
poor script. Guardians were made pretty cheap and cheesy. Thor character wasn't as funny nor the same without Loki which they conveniently killed off. The weaving in of other Marvel characters was seriously flawed and lacking and overall, it was hard to stay awake. For a sequel pretty average and for Marvel, one of the worst yet.
August 6, 2022
Idk why people can't just enjoy a funny movie it doesn't always have to be life risking battles even though this movie was a mix of both
August 5, 2022
Not very different
August 2, 2022
Thor should not be a comedy. Have some respect! and it was a bad one at that.
July 31, 2022
This one tries way too hard for laughs and appeals to younger kids and as a result ends up being a little too cheesy for my tastes.
July 29, 2022
Marvel has gone downhill
July 28, 2022
It's about time that it was geared to the younger ones. Great too take your kids to definitely a family movie
July 28, 2022
Bring back the classic Thor instead of this standup comedian!!
July 28, 2022
Comical travesty of a great action hero.