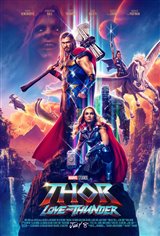 Thor: Love and Thunder
| 72 Reviews
Write a Review
In Theaters: July 8, 2022
On DVD/Blu-ray: September 27, 2022
2.73/5
Based on 254 votes and 72 reviews.
Please rate between 1 to 5 stars
Showing 1-10 of 72 reviews
September 24, 2022
I don't know where to start - Marvel is over, it's done, it died, but it just doesn't seem to know it yet.
September 18, 2022
The story and lines were so sad, I felt bad for the people who were paid to act. Clearly the moguls want people decrepit. About six in a two thirds full auditorium were laughing the whole movie. It was clear they were on strong drugs. My sympathies…
September 15, 2022
Better than some people say. You don't have to kill everything All the time. Rekindled romance with former flame. A lot of action.
September 8, 2022
What a waste of time crap
September 6, 2022
went with my niece and her father. it is a nice story line about a devoted father to a daughter but absolutely horrible otherwise. maybe a few special effects were good, but they are in the deep recesses of my mind. i didnt even get sit in the revliner seat which would it more barable.
September 3, 2022
I liked the humor and the drama.
September 3, 2022
Marvel: "OBJECTIFICATION OF WOMEN BAAAD!" Also Marvel: Objectifies Thor in the worst way they can get away with in a PG13 movie.
August 28, 2022
Absolutely childish film. Also, they need to focus on screenwriting.
August 26, 2022
Marvel has died.
August 19, 2022
So many silly scenes which shouldn't have been, mostly at Thor's expense. The movie seems to want us to not take Thor seriously, almost as if they want to belittle the hero in him. Certainly not the Marvel Thor, that I read in the comics for decades. Poorly written. It was almost a spoof of Thor. One of the most noble Marvel heroes, reduced to the butt of many a joke.