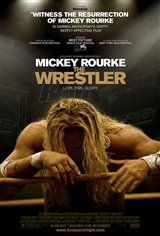 The Wrestler
52 Reviews
|
Write a Review
In Theaters: December 17, 2008
4.09/5
Based on 602 votes and 52 reviews.
61.87%

15.11%

5.76%

5.04%

12.23%
Please rate between 1 to 5 stars
Showing 41-50 of 52 reviews
January 15, 2009
Mickey Rouke still can not act,,,,
January 15, 2009
That Marisa Tomei is one hot enchalada!
January 13, 2009
It was good but it had a few slow parts which kind of made me bored. Of course that is just me. So, it is a renter in my books. 3/5
January 12, 2009
Mickey Rourke IS the movie. He understood the core of the character and never over played it. His honest simplicity and reverence for the character should win him best actor. Marisa Tomei was good also. I did however find the photography of the back of his head annoying.
January 10, 2009
Rourke gives an incredible performance, is backed up almost too well from Tomei, and the direction is the icing on the cake for soon-to-be classic.
January 10, 2009
What a great movie. Definitely go watch it. Amazing character development. You get really attached to him.
January 8, 2009
Amazing movie - up there with Gran Torino, Curious Case of Benjamin Button, and Slumdog amongst the best movies of the year. The subtle acting, and realism make this the best of the bunch.
January 2, 2009
simply amazing
December 30, 2008
it was ok but Mickey aint getting no Oscar
December 30, 2008
really hard to watch