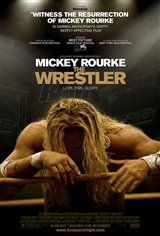 The Wrestler
52 Reviews
|
Write a Review
In Theaters: December 17, 2008
4.09/5
Based on 602 votes and 52 reviews.
61.87%

15.11%

5.76%

5.04%

12.23%
Please rate between 1 to 5 stars
Showing 31-40 of 52 reviews
January 27, 2009
It`s no Rocky but it`s still awesome
January 27, 2009
just great
January 26, 2009
Mickey Rourke At His Greatest!
January 26, 2009
The past 10 or 12 years for the lead actor have apparently been spent living a wasted existence and about 5 of those years were spent actually boxing in the lower level pro's. Mickey Rourke played Mickey Rourke, so in that context it was no great leap for him as an actor. A simple, enjoyable story line. It was well executed and entertaining, but it was no Oscar winner. signed.........GWH
January 23, 2009
awesome movie, first time ive been interested enough to see a movie in the theatre in a couple years. look forward to seeing rourke in other upcoming roles.
January 23, 2009
Stunning character piece. Mickey Rourke and Marisa Tomei are amazing.
January 23, 2009
Thoroughly enjoyed this movie! Mickey Rourke was excellent and I'm so happy to see him making movies again.
January 20, 2009
the only other actor that could have possibly pulled this role off is Daniel Day Lewis....maybe.
January 19, 2009
I saw this movie yesterday and I can't stop thinking about it still. Amazing movie. Mickey Rourke deserves the Oscar.
January 18, 2009
it was enjoyable, but nothing extraordinary. Rourke is good.