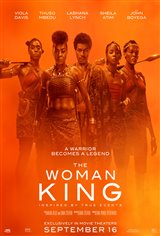 The Woman King
101 Reviews
|
Write a Review
In Theaters: September 16, 2022
On DVD/Blu-ray: December 13, 2022
3.76/5
Based on 284 votes and 101 reviews.
64.29%

4.29%

2.86%

0.71%

27.86%
Please rate between 1 to 5 stars
Showing 1-10 of 101 reviews
November 26, 2022
How long do they want to keep this absolute garbage in the theaters, so they could brag about making this or that amount of money and pretend it was successful?
November 22, 2022
The movie in itself is not bad. In fact is pretty entertaining. If you don't take in consideration the ridiculously exaggerated depiction of these women whose sole purpose was to sell their own people to slavery. Also, Woman "King"? No.
November 20, 2022
I loved seeing STRONG AA Women overcoming life challenges.
November 20, 2022
Lies, historical inaccuracies, xenophobic, exaggeration, terrible acting, wokeness, racist, propaganda, dumb.
November 20, 2022
Is this in the same universe as Wokanda Forever? Because it definitelly looks like that. Wokanda is probably still more historically accurate though.
November 11, 2022
To get more viewing, I think itbsh be sub titled. Many of my non African friends like it but could not flow well because they could not understand what they were saying
November 10, 2022
Liked actors, emotions, action ?? the movie 💯💯👏🏾
November 10, 2022
Terrible crap full of lies.
November 8, 2022
This movie really touched home with me. It showed how our ancestors were treated. Taken away from their home and then sold and taken to a far away country and made to be slaves. This actually happened in history.
November 5, 2022
Empowering!!