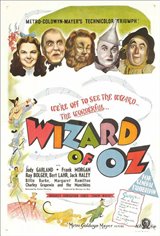 4.31/5
Based on 103 votes and 9 reviews.
74.16%

8.99%

3.37%

1.12%

12.36%
Please rate between 1 to 5 stars
Showing 1-9 of 9 reviews
March 27, 2011
Best movie of all time!!!!!!!!!!!
March 22, 2011
My ALL time Favourite Movie!!!! SO excited its going to be on the big screen!!!!
March 15, 2011
This movie is a classic! I watched it as a young kid and now I get to watch it on screen, doesn't get better than that!!
February 21, 2011
To the negative comments about this movie, this film has been around since the late 30's. It's a great story, wonderfully acted and the singing is great. Judy Garland is a queen, and the rest of the cast is awesome. Sorry if it's not your thing, but hey. It's probably one the greatest movies in film history. That can't be changed.
December 29, 2009
The hippest, happiest surprise of the year! Makes Avatar look like a low-budget student film!!!
October 25, 2009
boring not good the worse movie ever not good acting could done better if they remaded the singing was awful the did try thre best
October 19, 2005
The Wizard of Oz is a movie that every kid young or old will never stop watching. It`s the movie every little kid dreams of. This movie lets them use their imagination to see what will happen next. I love this movie and I will never forget it.
November 27, 2004
I DOES THIS MOVIE GET SO MUCH REVERENCE? IT`S TERRIBLE . THE PLOT WAS STUPID , THE ACTING WAS AWFUL AND SINGING WAS EXTREMELY ANNOIYING. ONE OF THE WORST MOVIES OF THE 20st CENTURY!
March 22, 2002
I think it was great.