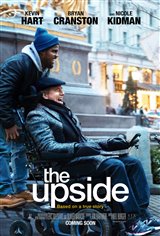 The Upside
148 Reviews
|
Write a Review
In Theaters: January 11, 2019
On DVD/Blu-ray: May 21, 2019
4.25/5
Based on 430 votes and 148 reviews.
73.74%

6.57%

1.01%

8.08%

10.61%
Please rate between 1 to 5 stars
Showing 21-30 of 148 reviews
February 24, 2019
Oh yuck!!! See the original - American remakes generally stink, and this one stunk.
February 23, 2019
My husband and I thoroughly enjoyed this movie! It simply had it all, funny and touching, I laughed out loud through much of it and some parts brought tears to my eyes. You know it's a great movie when it makes you feel many emotions throughout.......
February 23, 2019
5 stars
February 22, 2019
Funny, stomp your feet on the floor funny! Laughed so hard at times my face hurt!
February 22, 2019
LOVED this movie!!!
February 19, 2019
great movie, great acting.
February 18, 2019
My husband and I have just come home from seeing The Upside... It was very well done. I had seen the original story and found this movie to be very true to the original story.... This story is based on a real event and is very well done. Both Kevin Hart and Bryan Cranston were outstanding. I was surprised at how well Nicole Kidman played her role.... Usually I find her a little hard to believe in her characters, but she is outstanding in this movie.
February 17, 2019
We both loved the movie, funny & enjoyable.
February 16, 2019
treally funny!!!
February 16, 2019
A very uplifting story. I would highly recommend this movie.