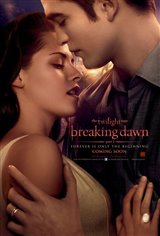 The Twilight Saga: Breaking Dawn - Part 1
322 Reviews
|
Write a Review
In Theaters: November 18, 2011
PG-13 | Fantasy, Drama, Romance, Science-Fiction | 1h 57m
4/5
Based on 1104 votes and 322 reviews.
52.23%

23.89%

7.29%

5.26%

11.34%
Please rate between 1 to 5 stars
Showing 1-10 of 322 reviews
February 9, 2015
Wow, so good.
February 9, 2015
Great storyline.
February 9, 2015
Such a nice movie and story line.
February 9, 2015
Love Love Love this movie.
March 3, 2013
I really love twilight
September 28, 2012
It was a bit slow but at that moment I Didn't mind! It was an interesting 'slow'. Nothing that would bore you. It was quite good actually. But I still think it could have had a bit more substance to it. More depth in the story, that is.
May 9, 2012
it sucks
April 20, 2012
the epic romance of our time.
March 30, 2012
go team edward!!!! go team cullen clan!!!! whoohoo!
March 30, 2012
i absolutely loved it! ii can't wait 'til part 2 comes out! i especially can't wait to see bella as a vampire, her daughter, renesmee, as well as her charming husband edward, and the rest of the cullen clan, and the wolf pack. super excited to see, well... everything in part two!