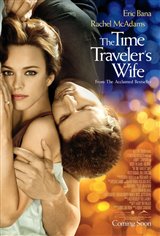 3.87/5
Based on 348 votes and 44 reviews.
Please rate between 1 to 5 stars
Showing 1-10 of 44 reviews
July 6, 2010
Never in my life have I seen a worst movie. I thought maybe I just didn't like it because i'm a fan of the book. But my friend who hadn't read the book said (when the movie ended) "Huh? What the heck? That movie makes no sense whatsoever!! Sooooo stupid!" So there's a warning.... don't watch it!
March 4, 2010
i was hugely dissapointed especially after wanting 2 see it so bad. it was too slow a total waste of ''time''. just horrible
January 22, 2010
Great Movie! I loved it and can't wait for it on DVD!
January 20, 2010
Wow... What a moving movie.
November 8, 2009
not good ,a waste of time...poor movie
October 29, 2009
good movie, although Mcadams needs to put on some weight! Could see her damn spinal cord!
September 25, 2009
I have never read the novel but I did enjoy the movie. Have Kleenex tissue handy. Crying is possible. Eric Bana - YUMMY!
September 22, 2009
Fantastic! :) Rachael McAdams was great~!!!
September 20, 2009
It was brutally awful!! We couldn't wait for it to finish so we could sneak into Funny People!!
September 19, 2009
If I'd seen this movie before reading the book, I might have liked it better. This movie should really have been called the Time Traveller as it was presented entirely from his perspective and was clearly his story. The title "The Time Traveller's Wife" really made sense for the book as it was written largely from her perspective, but did not apply at all to this film, which really didn't capture the essense of the book at all.