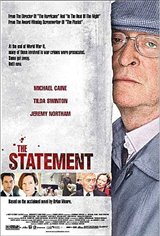 3.61/5
Based on 309 votes and 11 reviews.
Please rate between 1 to 5 stars
Showing 1-10 of 11 reviews
November 19, 2005
Very good movie. I think Cain`s character could have been better developed to show motivation for his crimes. Enjoyed it very much.
December 22, 2004
Mindboggling! I`ve watched it twice & pick up more details & links with each viewing. As a christian I am profoundly saddened by each story I see/read/hear concerning the mistreatment of Jews during WWII. I was blessed with loving orthodox friends who lost both sets of parents during the holocost. They tried to shield me from the horror of the holocost. I will never comprehend such evil.
October 25, 2004
Excellent. An incredible piece of art. Michael Caine is a great actor
August 9, 2004
Average. It`s the excellent performance of Caine that elevates this movie from being overly boring and forgetful.
April 28, 2004
Very good movie, should have seen more of the judge though :)
January 19, 2004
Not a bad movie, a little repetive with very little in the way of sub plot or character development. Had the potential to be more.
January 17, 2004
Boring. They failed to bring out the most important parts in the plot, i lost interest in the first half hour.
January 14, 2004
In regards to the comment of blasting the Catholic church, go read your history books, you`ll need a warehouse to hold them all! If that what was going on, how can it be blasting anything?! The movie is worthy to be seen and better than lots I`ve been subjected to.
January 1, 2004
I think it was a waste of time , A very pour script , I think that may be why it`s at limited theatres. There was far to much bashing of Catholic Church for it to be taken seriously. It had potencial but must of had a low budjet.