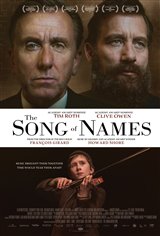 The Song of Names
| 4 Reviews
Write a Review
In Theaters: December 25, 2019
On DVD/Blu-ray: March 24, 2020
PG-13 | Drama | 1h 53m
4.83/5
Based on 12 votes and 4 reviews.
Please rate between 1 to 5 stars
Showing 1-4 of 4 reviews
February 3, 2020
Shakespeare Juliet coined it for generations:"What's in a name? .........doff thy name, And for that name, which is no part of thee!" There is a lot in a name. Names appear on stones, statues, on books and laws. Yet a huge group of people are left with a name which has no burial site, time of death and how they died. Only names. Holocaust survivors are left with their loved ones frequently only with name and as these Holocaust survivors fade away so are the names they carry. The movie "The song of names" got relatively poor rating because the reviewers and possibly the public did not have Holocaust experience. Dovidl is the young genius violinist who came with his father from Warsaw Poland to Britain to accelerate his professional career. As WW2 progressed there was no trace of his family and Dovidl is consumed by the memory of his parents and siblings. He had only one photo of them. He is tortured by not knowing the fate of his family in Warsaw. He goes through a stage in which he asks "Where is G-D?" and denied his Judaism something that some Holocaust survivors did as well. Later once in New York he runs into a group of Orthodox Jews who showed real concern about the Holocaust dead adding the names of Dovidl family to the list. Dovidl is now engulfed in communal Jewish orthodoxy gets married and leads his life accordingly. The fourth stage in Dovidl life related to his violinist genius. A phenomenal virtuoso the music connects all the dots as his close childhood friend Mark compulsively tries to find Dovdl with whom he shared his bedroom during childhood. Through the violin and the music he finally locates Dovidl and persuades him, now a bearded orthodox Jew, to give a concert in Carnegie Hall which he does in his virtuoso style. Dovidl thanks Martin his friend for giving him back his individuality which for him means to disappear again into the community wishing not to be found again.
January 17, 2020
Tim Roth and Clive Owen are brilliant. Two of my favorite actors. Can't forget about the supporting cast. They knocked it out of the park. Great stories are so hard to find in movies today. Rich in culture. It's a must see if you are in love with movies the way I am. I did predict one thing but this movie is not predictable. Great movie.
January 8, 2020
Mystery, love, war, loyalty, and history all wrapped up. Then there's the violin music- I bawled.
December 29, 2019
second half much better than first