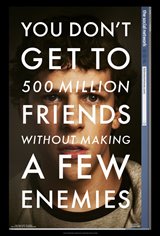 4.1/5
Based on 773 votes and 237 reviews.
Please rate between 1 to 5 stars
Showing 1-10 of 237 reviews
July 27, 2011
Much better than Facebook itself!
April 4, 2011
A truly masterful movie. It's rare that all the elements of film making come together to make such a great movie. It is a movie that reflects the times of which we live in and it shows a lot about greed, as much as it a movie about real genious. A fantastic movie!!
March 18, 2011
Excellent movie - an instant classic!!
March 16, 2011
Should have been the Best Movie! Even though The King's Speech was good,I feel it should have been a documentary! It was a political give away! The queen approved the movie, so I was not surprised to see this happen! I have seen five of the movies that were nominated out of the ten at your theatre! The ones that I saw were the following: Winter's Bone,Inception, Black Swan,The Social Network and The King's Speech! I was not able to attend the first five that were shown the previous Saturday! I personally wished that all ten were shown on the same day as last year!
March 13, 2011
you know what this is. this is me eating my own words. for months i said how stupid and unnessesary this movie is, but critic's loved it, so i gave it a chance. it was actually pretty good. i was impressed. the story kept my attention and the acting was amazing. still don't know how much is true though.
March 1, 2011
very intense, a good one to watch at home as there is little that would benefit from the large screen. Excellent acting.
February 21, 2011
i love anything written by Aaron Sorkin, so I enjoyed this. Zuckerberg not a very nice person if you believe this account. Interesting storey, but not the best picture or performance of the year....that goes to The King's Speech. Nice turn by Justin Timberlake.
February 20, 2011
Predicitable. Follows easy set up of emotional climax, physical climax and in the third act finding out the good guy is the bad guy, the bad guy is the good guy and all in all ends how you imigine it would
January 28, 2011
Awesome movie....such good, smart writing. I found this movie, about computers and geeks to be as thrilling as an action movie. Wierd, but true
January 23, 2011
I'll give it a 3.5, It was good, but it wasn't all that it was hyped up to be.