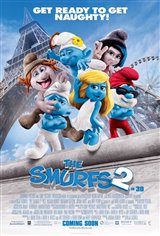 The Smurfs 2
23 Reviews
|
Write a Review
In Theaters: July 31, 2013
4.22/5
Based on 90 votes and 23 reviews.
52.50%

35.00%

2.50%

2.50%

7.50%
Please rate between 1 to 5 stars
Showing 1-10 of 23 reviews
December 26, 2013
I loved it
November 18, 2013
What a treat to be able to relive my childhood memories of this old show now turned movie! Definitely a good one to watch again.
November 17, 2013
Really great for children.
November 12, 2013
Great fun for the kids. A good movie!
November 8, 2013
awesome
November 5, 2013
It was a very nice movie to follow the first one. My kids enjoyed it a lot.
November 4, 2013
Any movie that keeps you entertained and doesn't have you looking at your watch must be good. Kept myself and daughter of 5 very entertained. She loves the smurfs ever since watching the 1st smurf movie. I am 41 and remember when my Mum made me a huge teddy smurf from scratch when the smurfs were around in the 70s/80s. The story was good and it has a relevance to us as mu daughter was born in France before we moved to Canada, we lived there for 16 years. The animation is excellent and story original, all the smurfs have such likeable characters and the new naughty smurfs are just as adorable when you watch them. Hope they have a smurfs 3....
November 4, 2013
Kids loved it!!
November 2, 2013
Love watching with the kids
November 2, 2013
A movie that everyone should see