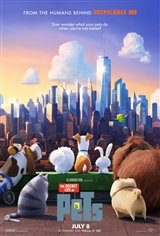 The Secret Life of Pets
49 Reviews
|
Write a Review
In Theaters: July 8, 2016
On DVD/Blu-ray: December 6, 2016
3.72/5
Based on 136 votes and 49 reviews.
47.69%

10.77%

21.54%

6.15%

13.85%
Please rate between 1 to 5 stars
Showing 41-49 of 49 reviews
July 9, 2016
I love this movie! I have a dog and it was so spot on with the portrayal of how cute dogs are.
July 9, 2016
great movie for everyone:) i enjoyed it seen it 3 times and took my 16 yr old daughter to see it she loved it:) and said it was awesome movie:) can't wait for it to come on dvd
July 9, 2016
Great movie lots of laughs. I did laugh some and found it funny at times. I think any one that has had a pet in their lives will enjoy this movie. For the guy that found this boring I take it you got no sense of humour or never had a pet how sad.
July 9, 2016
Great movie, so cute!
July 8, 2016
Very boring movie -_- don't waist your money and time.
July 8, 2016
Really well done animation, original and better than Finding Dory which copied some of the secret lives of pets. Lots of laughs and people who had ever had a pet or stuffed animal will enjoy this. Leonard was great his music choices spoke volumes.
July 8, 2016
love it
April 13, 2016
Looking forward to this.looks like a lot of fun!
February 1, 2016
My kids will love it n so do I :-D