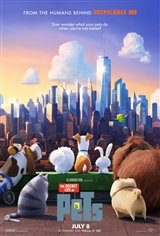 The Secret Life of Pets
49 Reviews
|
Write a Review
In Theaters: July 8, 2016
On DVD/Blu-ray: December 6, 2016
3.72/5
Based on 136 votes and 49 reviews.
47.69%

10.77%

21.54%

6.15%

13.85%
Please rate between 1 to 5 stars
Showing 11-20 of 49 reviews
August 22, 2016
Liked the film. I wish my dog had a secret life, but stupid mutt licks himself whenever he feels like it. He doesn't give a %@#! who's in the room.
August 12, 2016
Kids loved it :)
August 10, 2016
It was soooo cute, it was light and fun and everyone will enjoy it. I will go see it again.
August 9, 2016
Good fun, lots of action. Kids enjoyed it.
August 8, 2016
Terrible, not a movie for children! The underground animals make reference to harming their owner! This is unacceptable. I would not even give this one star,
August 6, 2016
We loved it
August 3, 2016
Me and my 13 year old daughter really enjoyed it - some good laughs. Better than finding dorrie!
August 1, 2016
Most entertaining kids movie of the summer, from an adult perspective!
August 1, 2016
Good. Not great. Zootopia was far better in opinion.
July 31, 2016
Cute in parts. Good enough to get out of the 100 degree heat and into an air conditioned room! My biggest complaint is that "Wiener" is consistently misspelled. Can anyone spell, proofread, or use spell-check? What are you teaching kids? I guess literacy is not important these days.