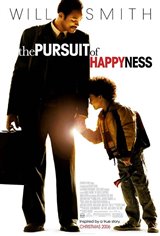 4.24/5
Based on 1830 votes and 134 reviews.
Please rate between 1 to 5 stars
Showing 1-10 of 134 reviews
September 8, 2015
Very touching, excellent acting by father and son.
July 13, 2014
AMAZING MOVIE! One of my favorites. Watch it with teens. It will give them a piece of mind. Will Smith and his son are amazing actors.
April 6, 2009
a great will smith movie thumbs up
June 29, 2008
this movie is soo special
February 22, 2008
great movie, loved every bit of it
July 20, 2007
Tributefan: This movie should be a lesson for some people. I really liked the story it was somewhat sad and very touching. Will smith acted very well. Shows that if you try really hard you can accomplish your dreams. Good movie 3.4 / 5 stars
April 7, 2007
Amazing movie!~ 5 stars, and two thumbs up. Amazing acting by Will Smith! His son is ADORABLE ! Amazing acting by Jaden Smith as WELL! : ) Loved it!
March 30, 2007
very sad and a veeeeeeeeeeeeeeeeeeeery touching film.
March 4, 2007
It was an amazing movie with an even better story to it. Will Smith was definately at his best and should have got the oscar for this one. I would go to this movie again in a second.
February 7, 2007
"The Pursuit of Happyness" is probably one of the best films Will Smith has ever stared in, not say that it is one of the best movies of the year. It was more of a time-waster at the one hour mark, then the last fifty minutes made me want to fall asleep. Thankfully, my friend sitting next to me, nudged me a little. Boring, predictable, pointless, are just some of the words that can describe this unpleasant film. (*/*****)