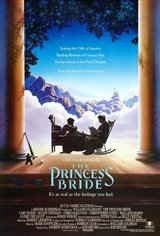 The Princess Bride
30 Reviews
|
Write a Review
In Theaters: September 25, 1987
4.46/5
Based on 683 votes and 30 reviews.
84.16%

2.17%

1.09%

0.78%

11.80%
Please rate between 1 to 5 stars
Showing 1-10 of 30 reviews
February 8, 2019
A wonderful movie for the entire family to see
August 31, 2017
This is the only movie I would actually go out and buy.
April 7, 2017
The smugness oozes off the screen.
April 5, 2017
Terrible
March 12, 2017
It insists upon itself.
January 5, 2015
Simply Amazing!
April 5, 2010
A truly beautiful film, which is incidentally my family's annual night before Christmas movie. It is 'inconceivable' how many quotable lines there are (excellent drinking game) which all still bring a smile to my face even after 20 plus viewings. I can tell you there's fencing, fighting, torture, revenge, giants, monsters, chases, escapes, true love, miracles, six fingered men and rodents of unusual size. I swear on the soul of my father, Domingo Montoya, you will enjoy this movie
September 29, 2008
classic
June 20, 2007
great movie cary elwes is gorgeous and a great actor.
April 15, 2006
I`m extremely obsessed with Christopher Guest... Like, badly haha. And even though he`s evil in The Princess Bride, I still love that man!