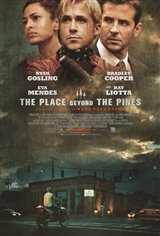 The Place Beyond the Pines
42 Reviews
|
Write a Review
In Theaters: March 29, 2013
R | Drama | 2h 20m
3.54/5
Based on 78 votes and 42 reviews.
38.46%

12.82%

23.08%

15.38%

10.26%
Please rate between 1 to 5 stars
Showing 1-10 of 42 reviews
January 12, 2014
I would write a review, but this movie doesn't deserve one. It's boring, the story line changes 3 times and we follow multiple hero's through a short lineage. None of which are interesting... The terrible performance of Gosling can sometimes be a little bit funny, but really, the only respectable performance (and actor) in this film is Bradley Cooper. Eva Mendes slept her way into the film, so she gets cut from any form of respect right there. Men don't use their dicks to get into the biz, they use their cunning. Women that use their poontang are as low as a snake oil salesman.
January 3, 2014
Kind of a pointless exercise, although I did like Mendes' performance. Very slow moving...lets hear it for fast-forward
September 12, 2013
Excellent drama !
September 10, 2013
Too long, but nonetheless a very good, smart movie.
August 17, 2013
Boring
August 14, 2013
very entertaining
August 14, 2013
excellent!
August 10, 2013
Slow to start, with a story line that was long in coming. I lost interest for the most part. Acting is mediocre. How this gets 4 stars is beyond me. Must be all the ladies voting for Ryan Goseling.
August 7, 2013
interesting film and concept...exceptional acting
June 20, 2013
Excellent movie. Still thinking about this movie. Certainly one of the better movies currently playing.