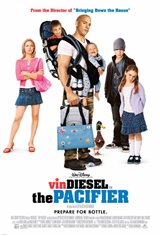 The Pacifier
146 Reviews
|
Write a Review
In Theaters: March 4, 2005
3.63/5
Based on 3712 votes and 146 reviews.
58.62%

5.57%

2.64%

6.77%

26.40%
Please rate between 1 to 5 stars
Showing 1-10 of 146 reviews
August 21, 2010
This movie is sick (in the best way possible!) i think the cast worked so well together. mostley the plummer kids they really made a convincing familly. can't stop watching it really great movie!
September 10, 2006
I love the movie it is tottally awesome!!!!!!!!!!! Vin Diesel is so hot !!!!!!!!!!!!!!!!
July 31, 2006
I think that the pacifier was a great movie and I loved it.
April 9, 2006
it was interesting to see how people learn to like their own family more.
March 18, 2006
Vin was awesome
March 16, 2006
THe Pacifier was such a great movie. When I was sick, I watched it 4 times and I was sick a whole week. I think the person who made it the funniest was Vin Diesel who is sooooooooooooooooooooooooooooooooooooooooooooooooooooooooooooooo HOTT!!
March 2, 2006
it was a great movie. lots of laughing and lke vin diesel a lot
March 1, 2006
I think that the pacifier was so awsome and vin diesel was so hot!
January 28, 2006
i love seth!!!! he is so cute!!!!!!
January 3, 2006
it was great