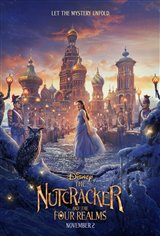 The Nutcracker and the Four Realms
3.26/5
Based on 80 votes and 32 reviews.
Please rate between 1 to 5 stars
Showing 1-10 of 32 reviews
February 25, 2019
very beautifully made. right out of a fantasy.
December 7, 2018
A little slow in spots but all in all an enjoyable movie. A good one for my sisters.
November 22, 2018
Another lousy way from Disney to ruin a beautiful story.
November 20, 2018
It was ok..not one of my favourites this year. Could be a good rental!
November 20, 2018
To much spinning effected my vertigo. Thought it was awesome they put actual parts of the ballet in the movie
November 17, 2018
No even closer to the real Nutcracker. Disney trying to change the original story that many of us love to watch. The real story is about a girl falling to sleep who steps into a magi world. This movie is totally bs. Dancing? Seriously? Just screen shots is all.
November 17, 2018
I loved the experience of such fantasy. I only wish I watched this film as a child. I must say the ballet scene is probably the very best choreographed ballet I have ever scene.
November 16, 2018
Some good original fantasy writing, good dancing. The acting was pretty good, except for the Sugar Plum Fairy (a little overdone) and the Nutcracker (a little weak, not engaging). Overall I enjoyed it a lot. My wife's ballet studio does a Nutcracker every year--- it was kind of fun to see a different take on it.
November 16, 2018
Colourful and engaging on many levels this was a delightful cinematic experience. The dance sequences ( ballet - of course - it is The Nutcracker ! ) and the film score were marvelous. The only less than was the uneveness of the cast. While McKenzie Foy was well cast as the film's central character Clara, her soldier buddy Phillip ( portrayed by Jayden Fowler-Knight ) wasn't as convincing. But overall a splendid portrayal of a timeless tale with some modern updates where the liberties taken with the original story enhance rather than detract.
November 16, 2018
Another good story turned into garbage by Disney.