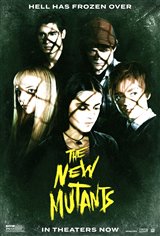 2.42/5
Based on 80 votes and 21 reviews.
Please rate between 1 to 5 stars
Showing 1-10 of 21 reviews
September 26, 2020
Junk movie. Slow pace. Last 20 minutes things become exciting. Only a moron would rate this movie 5 stars or people that have no taste in movies.
September 22, 2020
it was not as good as i thought it were to be it was kinda obvious of the mistakes of this movie
September 19, 2020
in and out of sleep. the last 15 mins was the only part that was good!!
September 10, 2020
dope a f
September 8, 2020
I don't know what you people keep posting one star two star the truth is the movie was amazing it was nice based on marvel comics I like the I like the movie so I give it five star five hearts I hopefully they will be a part two be safe take care of each every one of you
September 7, 2020
cheap, low quality movie
September 6, 2020
Are you kidding? This was such a waste of money. Have to shove ideology down our young people's throats. Just tell a good story, get rid of this rubbish underlying undertones. This is supposed to be a comic movie not this junk. Would rate it negative stars. Going to theater for entertainment, not this. I love superhero movies. Not this garbage. Marvel should be embarrassed.
September 5, 2020
The character chemistry was amazing.
September 4, 2020
This movies had sooo much potential!! But it's like they filmed it, did one edit and said, "It's finished!" 🤦🏾??? The main girl in the movie could not act!! The best character and actress was Magik, the Russian girl. Game of Thrones chick was so unnecessary. The boys were just there. The doctor was okay. One of the problems with this movie is that you didn't care about the characters really, you didn't care what they were going through. Everything felt rushed. The only one that had a heartfelt storyline was the Russian girl. Download the movie or wait for it on VOD.
September 3, 2020
It was ok