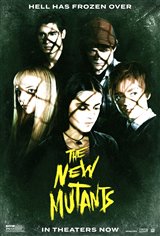 The New Mutants
26 Reviews
|
Write a Review
In Theaters: August 28, 2020
On DVD/Blu-ray: November 17, 2020
2.39/5
Based on 98 votes and 26 reviews.
21.05%

5.26%

10.53%

18.42%

44.74%
Please rate between 1 to 5 stars
Showing 1-10 of 26 reviews
November 23, 2020
When I see 20 posts which sound exactly the same on every movie, always saying it's a great movie, I stay away. A 5 star rating is the kiss of death to me.
October 8, 2020
Excellent movie
October 8, 2020
Had no expectations and was not disappointed. Great storyline, excellent movie.
October 5, 2020
I personally enjoyed this one, also don't call people morons because they liked something you didn't don't be a **** alright?
October 4, 2020
Nothing but teen angst and not very good at that. I like X-Men movies. This is NO X-Men movie. A potentially interesting plot mired in disconnection. I don't recommend it.
September 26, 2020
Junk movie. Slow pace. Last 20 minutes things become exciting. Only a moron would rate this movie 5 stars or people that have no taste in movies.
September 22, 2020
it was not as good as i thought it were to be it was kinda obvious of the mistakes of this movie
September 19, 2020
in and out of sleep. the last 15 mins was the only part that was good!!
September 10, 2020
dope a f
September 8, 2020
I don't know what you people keep posting one star two star the truth is the movie was amazing it was nice based on marvel comics I like the I like the movie so I give it five star five hearts I hopefully they will be a part two be safe take care of each every one of you