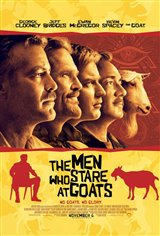 The Men Who Stare at Goats
72 Reviews
|
Write a Review
In Theaters: November 6, 2009
2.9/5
Based on 244 votes and 72 reviews.
33.04%

13.91%

4.35%

6.96%

41.74%
Please rate between 1 to 5 stars
Showing 1-10 of 72 reviews
December 23, 2010
My son and I liked the movie love the actors very funny
September 16, 2010
very disappointing!!!! With all that talent in the movie, I expected something far more entertaining - that didn't happen.
August 16, 2010
Who thought this nonsense up???? Terrible
August 16, 2010
I must have missed something, for the list of stars it was the worst picture i ever saw. It was garbage.
June 6, 2010
Improbably entertaining! Everything you've heard is true!
June 4, 2010
One word...horrible.
April 27, 2010
I must have stared too long. I felt like those goats that keeled over and died. It happened to me right at the beginning and again just before the credits. 1*
April 9, 2010
An intelligent perspective as man as an island. Interestingly funny and witty.
April 7, 2010
strange, weird, a bit funny....actaully, not very good
April 2, 2010
A strangely funny movie that does not fall to the stupid funny used a LOT nowadays in comedy movies.