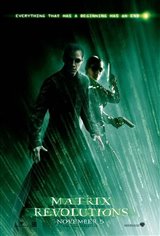 4.4/5
Based on 17861 votes and 270 reviews.
Please rate between 1 to 5 stars
Showing 1-10 of 270 reviews
May 3, 2009
This matrix was a bit dissapointing because there was not enough matrix in the movie until the end.
January 6, 2009
The perfect conclusion and best film of the series.
July 30, 2007
this was a great movie and neo is not dead his eyes were open he's just weak
June 16, 2006
AN good solid conclusion. the final battle between Neo and Smith is fantastic. Watch the film just for that alone, especially on the big screen. The Zion fight was okay. A good conclusion, don`t listen to the bad hype.
May 3, 2006
i love the matrix revolutions and i hope Neo survives
February 28, 2006
I loved "the matrix", it`s story is TOTALY waterproof, I`ve seen it maby 30-40 times and I can say truthfully, I can`t find one little hole. But when the end of THIS movie came... I was crying! How can they make Neo stop the machines in the REAL world and then only give us a fools explination that: "The power of the one extends behond this world" and then just think that we should get with that and swallow it. How can the Wachowski brothers do something like this? How can they destroy the werry perfect thinking of the matrix. I am SO disappointed!
February 18, 2006
I loved the first one! This one stinks...
February 16, 2006
is neo dead or alive i have a bunch of questions... make a 4 matrix
November 12, 2005
the best ending Matrix trilogy could have had ...
September 22, 2005
i don`t undertand that ending like how after smith copies himself onto neo how did he do that if he couldn`t before and how did neo kill him and how did the oracle help neo when she said she changed i think the first one was the best one an the second and third were only good for the action