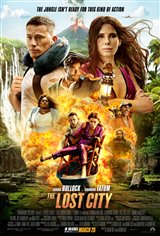 The Lost City
62 Reviews
|
Write a Review
In Theaters: March 25, 2022
On DVD/Blu-ray: July 26, 2022
3.59/5
Based on 178 votes and 62 reviews.
50.00%

6.98%

12.79%

12.79%

17.44%
Please rate between 1 to 5 stars
Showing 41-50 of 62 reviews
March 31, 2022
A new action classic!
March 31, 2022
I fell a sleep at the start of the movie and the only bad thing about that is i woke up and couldn't get back to sleep. One of the worst movies i have ever seen.
March 31, 2022
This is not a great movie. Even though I am a fan of hers she seems lost ( pardon the pun) and just going through the motions. The short time that Brad Pitt makes his appearance really makes a difference. Too bad this was not his pic.
March 30, 2022
Funny but silly at times. Loved Sandra Bullock, not her best film. Just a cute film.
March 29, 2022
For the most part, the writing is weak. There are a few funny lines ....
March 29, 2022
The best movie of the year -- fun for everyone!
March 28, 2022
best comedy ever, the NEW Hangover
March 27, 2022
It did not find most of it funny- Sandra Bullock came across as stupid rather than funny - lots of crude jokes
March 27, 2022
It is an OK movie some parts are silly over the top action. More of a romance comedy with some adventure. I found it more as a one time flick movie.
March 27, 2022
Loads of fun, a really good movie!!!!