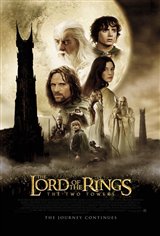 The Lord Of The Rings: The Two Towers
4.58/5
Based on 166718 votes and 772 reviews.
Please rate between 1 to 5 stars
Showing 41-50 of 772 reviews
September 30, 2003
This was the best movie i ever saw in my whole intire world i would like to see more movies with these characters together.
September 26, 2003
I LOVED IT! I LOVE ELIJAH WOOD TOO!
September 20, 2003
This movie is amazing. It delivers with great success, it includes all great aspects of movies. The effects are better than ever, Gollum was physically and emotionally beatiful. All of the actors/actresses portrayed the characters with emotion, triumph and downfall. This movie to me is considered history in the making! It is the best movie ever!
September 9, 2003
it`s really great. I think that they could have done a little better in the sets, and keeping with the character discription in the book, but otherwise, it was really good.
September 3, 2003
great movie already seen it 20 times and it was just released.
September 3, 2003
It was spectacular. Of course, Helm`s Deep was just a skirmish compared to the battle of Middle Earth -soon to come. The movie had great cinematography and wonderful acting. The only part I didn`t like was how Arwen got this ten minute cut in - come on, she wasn`t even in the second book. But, in the movies, I suppose, it explains her "struggle".
September 1, 2003
I didn`t think LOTR, The Fellowship of the Ring could be topped...I was wrong!
August 30, 2003
I HAVE ONE WORD TO DESCRIBE IT WOOOOOOOOOOOOOOOOOOOOOOOOOOOOOOOOOOOW I WAS SPEECHLESS AFTER COMING OUT OF THE THEATRE BEST MOVIE OF THE YEAR. THE BEST REMAKE OF A BOOK EVER, INCREDIBLE AND BREATH TAKING!! BULIDS ANTICIPATION FOR THE FINAL INSTALLMENT: THE RETURN OF THE KING I NEVER THOUGHT A MOVIE THAT WAS 3 HOURS LONG COULD GO BY SO FAST, ALL OF THE ACTORS AND ACTRESSES WERE FIT FOR THE PART I COULD NOT THINK OF NE ONE ELSE TO PLAY NE OF THE CHARACTERS PARTS VIGGO AND ELIJAH WERE AWESOME EVEN BETTER THAN THE FIRST WELL DONE PETER JACKSON 2 TUMBS WAY WAY UPPPPPPPPPPPPP!!!!!!!!
August 29, 2003
Best film ever. end of story.
August 29, 2003
The movie was absolutly possitively amazing. I couldn`t believe how really everything looked - and felt - watching it, i felt i was going to be lifted off the seat whereas i was sitting, and pulled and thrown into the movie. i couldn`t realize jsut how enchanting it was. I must say all the actors and actresses did an outstanding job at making this true to the novels which i love so much.