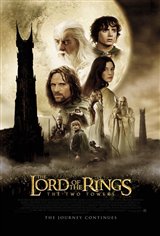 The Lord Of The Rings: The Two Towers
772 Reviews
|
Write a Review
In Theaters: December 18, 2002
4.58/5
Based on 166718 votes and 772 reviews.
88.34%

0.42%

0.82%

1.73%

8.69%
Please rate between 1 to 5 stars
Showing 31-40 of 772 reviews
December 3, 2003
Loved it.. Cant wait for the return of the king...Viggo Mortensen rules..
November 28, 2003
It was so good. It made me cry...
November 28, 2003
Amazing, the sound and imagery actually brought the movie to life.
November 26, 2003
OMG!!!!!!!!!!
November 25, 2003
breath-taking images
November 23, 2003
Very good, engaging. Good acting and great effects. Seems to reflect the tone of the book very well.
November 21, 2003
It IS A AWESOME movie because Like the battle between men and orcs at the Helm`s Deep also love the Riders Of Rohan.I can belive that Halidur have to die I mean He is sort of my favourite character.Anyways I can`t wait to see the 3 movie RETURN OF THE KING I hope it is better than the first and second
November 15, 2003
one of the best movies of the year can`t wait for the third one. the story line is very close to the books, I think that tolkien would be very proud of the work done on all three movies.
November 8, 2003
Phenomenal! This movie puts Tolkien`s mythical world of middle earth into reality! It could not have been done better! Well done Peter Jackson!!!!
November 6, 2003
awesome