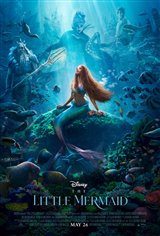 4.4/5
Based on 40 votes and 14 reviews.
Please rate between 1 to 5 stars
Showing 1-10 of 14 reviews
May 27, 2023
What a great movie! I didn't think I'd like it as much as the original, but I did. It's so neat how they make movies today. I'm 40, so the cartoon came out when I was little, & i didn't think they'd top it. They stayed pretty close to the story line of the original. But I really liked how they added some parts..like when the mermaid & prince are talking in the study & trade the little mermaid figurine. My favorite part was the sea witch. She did an amazing job. & I love the actor who played her! They all did wonderful, tho. I loved the actor they picked for the little mermaid! & the fact that she is mixed. & I loved all the diversity of the characters. Very cool that Ariel's brothers & sisters were different races, & her dad seemed of a Hispanic orientation. & Eric's step-mom was black. Very cool. I think Disney did a fantastic job all around, & my 11-y-o & my husband loved it too! Excellent casting, animation, & singing-& close to the story line of the original. 5 stars.
May 26, 2023
Once again, a let down in acting and script. U just cannot redo or match the 1st one.
May 26, 2023
Little Mermaid is the cinematic event of 2023. You don't want to miss it.
May 26, 2023
It is a very fun and nostalgic movie. I went to see it mainly out of principle because of all the racist Conservatives out to trash it just because of the race of the actress. But I end up really enjoying it. So I'll go again, just to support the movie and double peeve off the Conservatives.
May 26, 2023
Would love to see a longer Director's Cut of this instant classic -- it's pure Disney magic!
May 25, 2023
IT'S ALWAYS THE NAY SAYERS, I KNOW EVERYONE HAS AN OPINION, BUT MY GOODNESS....DAMN..KNOW THAT CHANGE IS GOOD TO SEE DIFFERENT WAYS A MOVIE IS MADE. NOT SAYING FORGET ABOUT THE ORIGINAL, THE ORIGINAL.. IT WAS CUTE AND CARTOON ANIMATED, BUT THIS MOVIE BY FAR TOPS THE ORIGINAL IN MY BOOK. AND SOME WILL NOT LIKE THE MOVIE BECAUSE THE MAIN CHARACTER IS "BLACK" IT'S 2023 AND TIME FOR CHANGE....I'M JUST SAYING AND HAVE AN AWSOME DAY!!
May 24, 2023
This is a must Watch best Live Action Love it my Niece Loved this better then the Cartoon Version and she is 6
May 24, 2023
Better than the original and a truly stunning achievement. I can't remember having a more awe-inspiring experience in a movie theater; everything about this movie was just PERFECT! Disney has given us another game-changer: THE LITTLE MERMAID is the most enthrallingly gorgeous CG musical since CATS! I've been listening to the soundtrack non-stop for the last 72 hours, and I simply can't wait to introduce friends and family to this work of popular movie art no matter the financial cost to me personally.
May 23, 2023
I swear if this isn't the most best wonderful movie that I've ever seen in my entire life, I have never been so happy to watch some thing I graciously adored those two hours I spent watching this movie
May 16, 2023
The most photo-realistic CGI effects ever! It absolutely transports you to that magical world "Under the Sea." Just WOW!!!