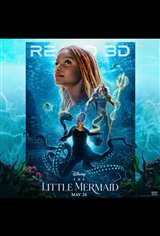 3.67/5
Based on 12 votes and 6 reviews.
66.67%

0.00%

0.00%

0.00%

33.33%
Please rate between 1 to 5 stars
Showing 1-6 of 6 reviews
June 9, 2023
Absolute garbage
June 8, 2023
Brilliant! A remake that's really good. Loved it!
June 6, 2023
I loved it. I'm in love with the original and am split on all the remakes. Some are amazing, some should have been left. This is a beautiful movie! Ariel and Eric are perfect. I will see this again!
June 4, 2023
Her voice was so amazing, I can't believe how talented she is. It was such a great movie!
May 28, 2023
This is a black Little Mermaid. A rehash of an old story, just with a black mermaid. Disney is trying too hard to be inclusive. How about just starting with a new original story.
May 24, 2023
Ariel's Voice in the Live Action is just 🤩🤩🤩🤩 best live action in a Long time.