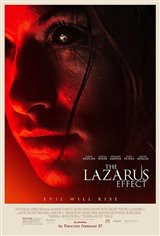 The Lazarus Effect
8 Reviews
|
Write a Review
In Theaters: February 27, 2015
PG-13 | Thriller | 1h 23m
2.3/5
Based on 22 votes and 8 reviews.
10.00%

20.00%

10.00%

10.00%

50.00%
Please rate between 1 to 5 stars
Showing 1-8 of 8 reviews
January 18, 2017
Surprisingly good! It takes the basic premise that FLATLINERS fumbled and does it right.
June 27, 2015
Predictable and bad! Don't waste your time or money.
June 4, 2015
Absolute rubbish!
May 9, 2015
To be very bluntly honest the Acting was decent,other then that there was no real good story line had no plot or plot twists and wasn't at all scary for a Thriller movie. The only good part of the movie really was they left it open for a sequel,so if they Do make a sequel they might actually give the audience an actual Plot and story with a few twists and actually make it Somewhat scary sadly a poor attempt at a Thriller/Horror movie.
March 29, 2015
It looks scary
March 5, 2015
This movie was scary and interesting by delving into the afterlife. A decent scary movie thriller.
March 1, 2015
Trailer sums up the movie completely, save your money on this one people, total wast of time and money.
March 1, 2015
Usually Blumhouse is behind good solid movies, unfortunately not this one. Save your time and money and avoid this snooze fest that really doesn't make much sense!