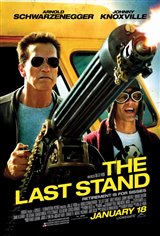 The Last Stand
22 Reviews
|
Write a Review
In Theaters: January 18, 2013
4.33/5
Based on 68 votes and 22 reviews.
66.67%

12.12%

12.12%

6.06%

3.03%
Please rate between 1 to 5 stars
Showing 1-10 of 22 reviews
August 25, 2017
Arnolds still got it....
July 24, 2014
Best X-MEN ever!
July 24, 2014
I am impressed! This action movie is awesome. Love love the old Arnold playing tough sherif.
July 20, 2013
Amazing movie !
June 8, 2013
Entertaining
June 3, 2013
It was ok, Arnie sure seems old now though. Not as much Knoxville as I thought there would be, hes just in the beginning for a couple minutes and in the end for a bit. Nothing original in the movie though. Buts its worth a watch.
May 6, 2013
Awesome
February 13, 2013
nice all-round action with brutal ruthless baddies, interesting story/variety, an unlikely scenario, (fun/funny/sad, too) but still enjoyable. worth the see. nice to see a 'handsome Asian American' as a 'good guy' (but unfortunately, he was a side-kick of a sidekick; better than nothin'!!!) thus, why i liked 'bullet to the head' more! worth the see.
January 27, 2013
This is a great movie to watch. Now i feel like i would like to see this movie again. The acting was very good. Thumbs up Arnold and the rest of the cast!!!!.
January 22, 2013
Arnold is back in fine form. If you take theis movie for what it is ie a real life cartoon, you'll be very entertained.Excellent!