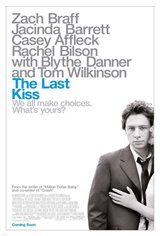 The Last Kiss
40 Reviews
|
Write a Review
In Theaters: September 15, 2006
3.86/5
Based on 679 votes and 40 reviews.
49.06%

20.75%

11.79%

3.77%

14.62%
Please rate between 1 to 5 stars
Showing 1-10 of 40 reviews
January 11, 2007
Such a good movie!
January 5, 2007
went to watch it got Rachael Bilson . so hot!! great movie with a great soundtrack. on dvd now must rent !!
January 2, 2007
Very Cute!!
December 31, 2006
i thought this movie was very SEXUALY orentated,it gave very vauilble life lessons,on love relationships..this movie was very indullging,and very good i rate this movie a 5/5 thanks for listentening MUAH.
December 29, 2006
It was the best movie ever, rachel Bilson rock omg she is so cool
October 10, 2006
One word - EWWW! My cousin and I like fell asleep during it. WE WERE WAITING TO GET THE ** OUT OF THE MOVIE. We were begging to god, to let the movie be over. So killing. So boring.
October 2, 2006
I enjoyed the movie... but then I will definitely see all Zach Braff`s movies... I also loved him in Garden State. He`s an amazing actor.
October 1, 2006
i just found out my boyfriend cheated on me after 7 years LAST week and the while thing unravelled exactly like it did in the movie. it REALLY hit home. found it very therapeutic.
September 30, 2006
Movie was very good and most interesting. It explored many different relationships and I found that it was quite well done. Realistic and not your typical Hollywood ending. Definitely worth watching!!!
September 30, 2006
ANNOYINGLY BORING!!