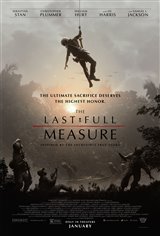 The Last Full Measure
| 24 Reviews
Write a Review
In Theaters: January 24, 2020
On DVD/Blu-ray: April 21, 2020
R | Drama | 1h 50m
4.69/5
Based on 72 votes and 24 reviews.
Please rate between 1 to 5 stars
Showing 11-20 of 24 reviews
February 1, 2020
I know something about this line of work and this is the most honest depiction of the dedication and bravery of the guys who go down the wire that I've seen in a movie. Worth making an effort to go see this jewel, but take a handful of tissues for the tears...
January 31, 2020
Great tribute to our service men. Academy Award acting, I've been in few movies, where the audience applauds at the end. This movie deserves to be seen.
January 31, 2020
A powerfully moving story, not so much about war(action), but the toll war takes on men's psyche who live thru it, & the politics that sometimes gets in the way of the truth. Great ending. rh
January 30, 2020
There was a moment when I thought maybe the movie is more one for tv at home. But that was a really fleeting moment. The ending of the movie was a powerful message. Very good movie especially since it is a true story.
January 29, 2020
As I flew the rescue helicopters (Kaman HH-43B) (not shown in the movie as only a very few are still flying)that he was lowered into the jungle from (the one in the movie was a Huey) and they used our radio call sign of "Pedro" which is what we used in Vietnam. I was in a different base than he was--much farther north.This movie brought back so many memories of my time in Vietnam. The last few minutes of the movie was fantastic.
January 28, 2020
fantastic movie with a great story and extremely well acted
January 28, 2020
Excellent film - well-acted - amazing story! Please see this film! It tells the story of a true 'action-hero' - not the Marvel kind, the REAL kind!
January 26, 2020
Very well done respectful film . It was very emotional to watch some of the scenes dealing with survivor guilt , and how the families dealt with the loss . Be sure to bring your Kleenex .
January 26, 2020
Touching story of bravery but slow at times. It shows how sometimes a medal (America's highestst) is not given because of Bias by politicians and others who operated by obstruction of the paperwork or just that the person was not in their branch of service.
January 26, 2020
Gut-wrenching drama, Academy needs to revisit the OSCAR list immediately. Forget cutoff dates. This is one of the best movies I've seen.