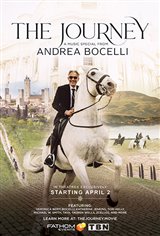 The Journey: A Music Special from Andrea Bocelli
4.39/5
Based on 36 votes and 15 reviews.
Please rate between 1 to 5 stars
Showing 1-10 of 15 reviews
April 7, 2023
"The Journey" was a spectacular adventure in sights, sounds, history, faith, bonding with the artists, upliftings...Was a totally inspiring, peaceful, enjoyable, faith-filled Journey for me & the group of family & friends who attended with me, This is a MUST SEE...I highly recommend All share "The Journey" with some of the most talented artists: In voice, instruments, cinema, faith, etc. The Italian Countryside scenery, rich in the beauty of our Christian Faith History, highlighted with such memorable music, will inspire you!!
April 7, 2023
Movie was outstanding. Music and scenery were memorable. Is a must see. Sad that it is getting so little publicity.
April 7, 2023
On insightful look into my favorite singer
April 5, 2023
Beautiful scenery and amazing music
April 5, 2023
The beautiful music and tour of Italy country side. I am such a fan of Andrea and his family I have been twice and going again tomorrow with friends. Imagine no foul language or violence! Its a really lovely mini vacation for your mind.
April 5, 2023
We were a group of 9 five women and 4 men all over 75. We all agreed this is such a well done film, the story, the music and the beautiful scenery. It is so uplifting and very heart warming. Would definitely see it again
April 4, 2023
Well done and look forward to seeing it again.
April 4, 2023
The entire family absolutely loved it and cannot wait to purchase the dvd when it becomes available. It felt like you were there in person roaming the Italian country listening to the beautiful music!
April 4, 2023
I loved it! Highly recommended! The musicians, the Italian countryside on the big screen, the godliness. it was uplifting, inspired, and moving. I want to see it every day on the big screen, then own it to watch at home. I took my 18 year old son and he loved it too! I think you have to have a soul to start with.
April 3, 2023
I loved everything about this documentary. The scenery was breathtaking, the music phenomenal and the voices were amazing 🙏🏻??🎶🤗👏👏👏. I wish everyone in this whole world could view this spectacular music event????. What a glorious blessing and extraordinary experience I had tonight