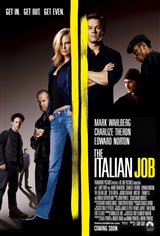 The Italian Job
117 Reviews
|
Write a Review
In Theaters: May 30, 2003
4.25/5
Based on 5507 votes and 117 reviews.
65.85%

18.82%

2.31%

0.36%

12.65%
Please rate between 1 to 5 stars
Showing 1-10 of 117 reviews
January 31, 2019
AWESOME
May 30, 2008
BEST MOVIE EVER!!!
September 3, 2006
I loved that movie its one of my favorites its got my two favorite actors in it mark wahlberg and charleze theron mark wahlberg is the sexiest man in this movie oh my god LOVED IT.
July 31, 2006
Mark wahlberg is soooooooo hot in this movie
April 20, 2006
mark wahlberg is hotter then ever in this movie this is his best work
August 9, 2005
It was the best movie of the year
February 25, 2005
the movie wuz quite gud but hansome rob ain`t dat hansome charlie is quite fit n e as muscles
January 25, 2005
this movie was great.especially seth green .great work the director did. those minis are tempting me to speed off the roads of malta (cause i am from malta)with a mini .napster is greaaaaaaaaaaaaaaaaaaaaaaat.
January 25, 2005
THIS MOVIE ROCKS . THE CAST WAS EXCELLENT AND THOSE MINIS SURE SPEED UP THE MOVIE TO THE BOX OFFICE I REALLY ADMIRE DONALD DE LINE AND GARY GRAY FOR COMIN UP WITH SUCH AN EXPLODING MOVIE KEEP IT UP
November 9, 2004
NAPSTER or LYLE IS SOOOOOOOOO HOTTTTTTT and BEAUTYYYYYYYYY and SEXYYYYYYYYYY and I don`t know what all.....His BIGGEST FAN IN GALAXY L.O.O!!!!!!!!!!!!!!!!!