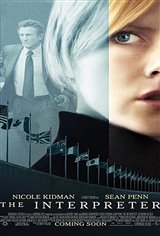 3.92/5
Based on 895 votes and 84 reviews.
Please rate between 1 to 5 stars
Showing 1-10 of 84 reviews
October 12, 2006
I`m not really sure if I liked this film or not. It didn`t have a lot of hype over it, for having two big stars being in it. It`s just the typical genre, you neither like it or you don`t.
May 1, 2006
Did not make sense at all. Why did she go to get on that bus unless she was part of the plot? And if that`s the case, why did she want the agents to know that she was getting on that bus (she had the one guy drive her there).
March 16, 2006
Awesome, thrilling plot! kinda dragged out, but i definitely will buy the movie! nicole kidman was perfect for the role, and sean penn was good too. the crying scene was awkward though. but overall, great movie!
October 10, 2005
Waste of time, wasn`t all that it was hyped out to be.
October 7, 2005
Just great. Very entertaining..it was nice to see Sean Penn in a movie without him swearing through the whole thing. I was worried I wouldn`t understand it because it was a political psychological thriller but they did explain as they went along.
September 12, 2005
meh if ur bored and are looking for a thriller to kill some time, its decent. however if ur looking for a thriller to amuse u, The Interpreter only does 30% of its job
August 14, 2005
this movie was dissapointing. i thought it would be much better. i can`t tell if they were trying to work some kind of love connection in between nicole kidman and sean penn. their dramatic scenes together were totally dumb and the ending should`ve been better. ididnt like that she went back to africa. what`s up with that. oh well. i only paid 3 bucks
August 11, 2005
It was good a little...but who the hell made Sean Penn go in the movie?
July 28, 2005
great suspense... great symbolism... what can i say? i love kidman
July 20, 2005
The movie keeps you guessing till the end. Overall a good movie to see.