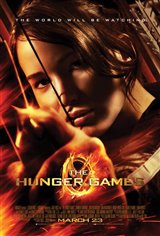 The Hunger Games
760 Reviews
|
Write a Review
In Theaters: March 23, 2012
3.47/5
Based on 5854 votes and 760 reviews.
40.04%

17.06%

9.87%

15.74%

17.30%
Please rate between 1 to 5 stars
Showing 1-10 of 760 reviews
February 2, 2018
Weird and too brutal considering the main characters are kids, so kids will mostly watch it. Even younger kids than the protagonists. I don´t get the hype about this movie.
December 20, 2017
One of the best movie ever made
September 20, 2014
Fascinating, great acting, great directing... very captivating... saw movie, read books... Great stuff!!!! Keep it coming.
March 23, 2013
The only thing worse would be a sequel.
August 29, 2012
not nearly as good as the book (no real shocker there...are they ever) but i really enjoyed it! one pretty big difference between the ending of the book and movie though.
August 20, 2012
good movie
August 19, 2012
an excellent movie that deplicts the future world we could be living in. has a deep meaning, with a talented cast. lots of suspence, action and edge of your seat moments. highly recommend.
August 19, 2012
so funny :d have to watch it! if u don't i will be :( please watch it:d :d:d:d
August 17, 2012
could have been darker.
August 17, 2012
greatest movie ever!! even though i didn't read the books, it was an amazing movie! very good acting, and a great story line! so i've heard from people who've read the books that it's a little long, i must agree but it was still amazing! must see for sure.