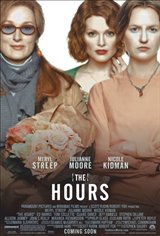 3.53/5
Based on 3687 votes and 40 reviews.
Please rate between 1 to 5 stars
Showing 1-10 of 40 reviews
November 29, 2005
The Hours is an awesome movie!!! I loved it!!! ps- I love your comment Leanne!!! julio
November 9, 2005
I loved the novel and the movie followed the novel very closely. The performances by Kidman, Moore and Streep were excellent. I didn`t think Kidman could truly act until I saw this film. Very moving story lines from three eras left the theater silent and still at the movies end. Excellent, especially if you`ve studied any of Wolfe`s writing.
April 14, 2005
Just perfect. The people how vote between one and three stars is because they just did not understund the movie.
April 3, 2005
It should come with a disclaimer--please do some research on Virgina Wolff, and the novel Mrs. Galloway, before watching this film. Otherwise, you may find yourself constantly trying to figure out what`s going on.
January 29, 2005
I suffer from depression and suicidal thoughts. I bought the DVD. It`s the type of movie that I watch over and over again, because I see myself mirrored within it. I think it was a great movie.
November 7, 2004
This movie was full of depth and very well thought out. The connextions between the lives of the three women was brilliantly put together, to the point of giving me chills. Not to mention that Meryl Streep and Julianne Moore were fanominal, Nicole Kidman did a good job but her character didnt allow her to act to her full potential. The reason she won the oscar was the classic case of beautiful women gone ugly.
September 13, 2003
A excellent movie that has no bad acting, simply this movie is made out of performances, espically NIcole Kidman who barely reconisable on screen.
July 5, 2003
please!!! how can people like this kind of movies buuu!!, the worst movie in the world, it doesn`t have any interesting part at all, boring, I want my money back.....oscar???? how could I stay wake up during this movie...
May 4, 2003
One of the best movies ever seen.