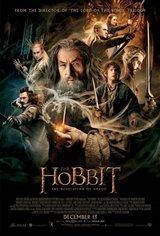 The Hobbit: The Desolation of Smaug
51 Reviews
|
Write a Review
In Theaters: December 13, 2013
4.2/5
Based on 280 votes and 51 reviews.
65.38%

12.50%

6.73%

7.69%

7.69%
Please rate between 1 to 5 stars
Showing 1-10 of 51 reviews
October 25, 2014
THE BIGGEST MOVIE IN THE WORLD!
October 4, 2014
AWESOME, POWERFUL AND TRULEY EXTRAORDINARY, ONE OF THE BIGGEST MOVIES IN THE WORLD, PREPARE TO BE AMAZED, YOU WILL BE BLOWN AWAY!!
September 21, 2014
EXTRAODINARY MOVIE MAGIC!
June 9, 2014
Fifth film in New Line's Tolkien trilogy lacks focus. Ian Holm's Bilbo is fine as usual, but Benedict Cumberbatch's dragon is a disappointment.
April 3, 2014
Amazing!!! Great action and story line that matches the book.
March 29, 2014
Amazing, Peter Jackson has wowed us once more with the second part of the Hobbit trilogy.
March 29, 2014
Booooorriiing
March 22, 2014
I loved it... and would definitely recommend it.... of course I like the Lord of the Rings Trilogy.... so I loved it... Plus I am an Orlando Bloom Fan... and glad he was BACK!!!!
March 11, 2014
A bit sad that they've given in to the notion that plagues most CGI-involved series sooner or later - that the CGI is an end in itself. Even the most amazing CGI, when piled on for too long, gets boring. Worse, it becomes cartoonish. This movie also lost the humour that was such a part of the LOTR movies. And lots of plotlines fresh from TV, with cliched dialogue to match. Sad. Won't bother with the 3rd one.
February 16, 2014
Better than the first. I've seen it in theatres multiple times. Richard Armitage's performance is amazing.